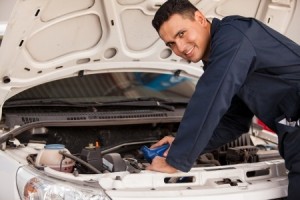 Our goal at Affordable Auto is to get you back on the road as quickly as possible. Sometimes we need to service your car for a few hours, while other services can be performed in as little as 30 minutes. Take a look at some of the minor car repairs we can perform in no time!
Oil Changes – Regular oil changes are one of the easiest ways to keep your car running smoothly. Even though some in the auto industry say you should change your car's oil every 3,000 miles, you really only need to change it every 5,000-7,000 miles. We preform routine oil changes on a daily basis, so stop on in for a quick tune up today.
Diagnostic Tests – Is your check engine light on? Or maybe your anti-lock brake light won't turn off. We can run a simple diagnostic test to find out exactly what is wrong with your vehicle. The longer you put the problem off, the costlier it could be if bigger issues arise. Let our computers pinpoint the problem before it snowballs into something worse.
Windshield Cracks – You may not think that tiny chip in your windshield is a big deal, but it's only going to get bigger. Our skilled technicians can fix the cracks before they take up your whole windshield. The procedure is quick and painless, and it can save you hundreds of dollars if you ignore the problem and have to replace the entire windshield down the road.
Tire Issues – Stuck with a flat tire or uneven tread? Swing on into our shop for all your tire needs. We can install a new set of wheels or rotate your tires so they wear down evenly. Want to know if your tire pressure is too high or too low? We can take of that too!
Fluids – Notice a wet spot on your driveway? Know your car is leaking something, but you're just not sure what? We can make sure all your fluids are at the appropriate levels, and we'll ensure all the hoses are functioning properly. Whether it's oil, brake fluid, transmission fluid, coolant or battery fluid, we've got you covered.
Alignment – If your car is pulling to the right or left, odds are an alignment problem is to blame. Not only can an alignment issue make it more dangerous to drive your car, it can also put an extra strain on other parts of your vehicle. Ignoring an alignment issue can cause serious problems to your suspension, which can be really costly to fix. Let us get your car back in perfect alignment.
Contact us today at 952-933-0735