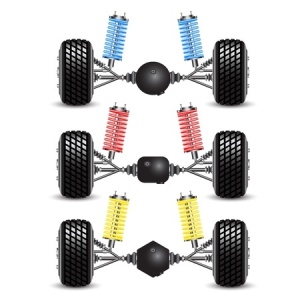 Shocks and struts are essential parts of every vehicle, but most drivers don't give them a second thought until they start to notice their car isn't handling as well as it used to.
Shocks and struts preform two main functions:
They dampen spring occultation (making the car less "herky-jerky")
Help maintain vehicle control
Below we explain both in more detail.
How Shocks and Struts Work
Before we get into the details, it's important to note that not all vehicles have both shocks and struts. Some cars just have shocks, and some cars only have struts. Shocks are just one component of the overall suspension, while a strut is the complete suspension framework.
Shocks, as you might have guessed, serve as a way to lessen the movement caused by any jarring movement, like a pothole, crack or crevice in the road. Technically, that's the spring's job, but the shock absorber prevents the spring from bouncing, so it plays a crucial role in keeping your car from bouncing around. Without shocks, your car would feel like a rocking chair, bouncing along down the highway.
Struts are similar to shocks in the service they provide, but since the strut provides structural support to the vehicle, it offers more control. Just like shocks, if the struts are damaged or worn, you will notice more swaying and bouncing while driving.
When to Replace Shocks and Struts
If you notice that your handling has decreased or that your car seems to be bouncing, you'll want to have your shocks and struts looked at. Otherwise, we typically recommend that you replace your shocks and struts every 50,000 miles.
At a minimum, have a mechanic examine your shocks and struts every 30,000-50,000 miles. If you do a lot of driving on smooth, paved roads, you probably don't need to have them replaced as often. If you traverse many a gravel roads lined with potholes, you may need service before then.
In either case, we can help. Contact us for a quote today.