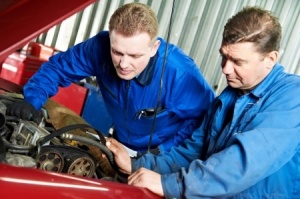 Tune ups are a great way to keep your car running in top shape between larger scheduled maintenance work. The problem is that far too often people skip the minor tune ups until another problem rears its head. Instead of rotating tires regularly, drivers ignore the practice and suffer a tire blow out or have to spend even more money on a new set when their old tires wear out too quickly.
Automotive tune ups can be simple DIY projects or quick fixes at a trusty repair shop. Either way, as long as the work is getting done, your car will thank you. Here are some smart tune ups we recommend you consider looking into for your car.
Alignment Check
Battery Terminal Cleaning
Brake Checks
Filter Changes
Fluid Top Offs
Hose Checks
Regular Oil Changes
Tire Rotation
Tire Pressure Checks
Window Chip Repair
Another good way to determine what tune ups your car needs is to see what the mechanic recommends when you take you vehicle in for service. Most times the mechanic will note any potential issues, like low tire pressure, fluids that need to be flushed or if any belts are showing wear and tear. Service rarely needs to be performed that day, but those recommendations can help you budget for future tune ups or allow you to fix the issue on your own time.
If you have any questions about regular tune ups or when maintenance should be performed, reference your owner's manual or give us a call today. We can take care of your car and provide you with ideas to keep it running in top shape. Don't delay, contact us today!