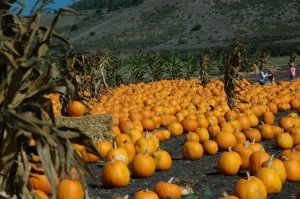 Picturesque Minnesota is bustling with life during the fall, and many people hop in the car to check out the state's beautiful landscape and attractions. To help you in your search for fun fall activities in Minnesota, we complied a list of five places to drive to before it gets too cold. In the event you need a tune up before heading off to some of these destinations, swing on in to Affordable Auto!
1. Apple Picking at Parley Lake Winery and Deardorff Orchards Nestled in Waconia, Minnesota, Parley Lake Winery allows you to sip on some apple-infused wine while you stroll through the orchards looking for that perfect Honeycrisp apple. Unlike some other orchards, at Parley Lake you are encouraged to go pick your own apples right off the tree. Finish your trip with a flight of their award winning wine, or check out the petting zoo.  Distance from downtown Minneapolis – 29.3 Miles, 40 Minutes.
2. Halloween at Valley Scare Every weekend in October, Valley Fair transforms from a cheerful amusement park to a home for ghosts, goblins and ghouls. Check out the creepy characters that roam the many haunted houses, or work your way through a clown-infested maze! A trip to Valley Scare is not for the faint of heart. Distance from downtown Minneapolis – 21.5 Miles, 27 Minutes.
3. Pumpkin Picking at Tom's Pumpkin Farm Halloween is just around the corner, so load the family into the minivan and take a drive to Tom's Pumpkin Farm in Lindstrom, Minnesota. Every pumpkin on the farm is priced below $4, so you can keep the kids happy without breaking the bank. Once you've got your gourd, head on over to the corn maze. Come back at night on a Friday or Saturday in October and try to navigate through the Midnight Maze! Distance from downtown Minneapolis – 46.9 miles, 52 minutes.
4. Autumn Golfing at Deacon's Lodge Squeeze in one more round of golf before the season ends by taking the drive up to Breezy Point, Minnesota. Designed by Arnold Palmer and named after his father, Deacon's Lodge may be the most picturesque course in Minnesota. Deacon's Lodge has over 500 acres of forest, wetlands and lakes to challenge even the most experienced golfer. A trip to Deacon's Lodge in the fall should be on any golf-enthusiast's bucket list. Distance from downtown Minneapolis – 148 miles, 2 hours 31 minutes.
5. Hop in a Hot Air Balloon at Stillwater Balloons  What better way to check out the fall foliage than by seeing it from the skies? At Stillwater Balloons, their trained pilots will take you on an hour-long flight above the St. Croix River Valley. Check out the colors of the season from hundreds of feet off the ground, and celebrate your journey with a champagne toast! Distance from downtown Minneapolis – 26.7 miles, 32 minutes.
---