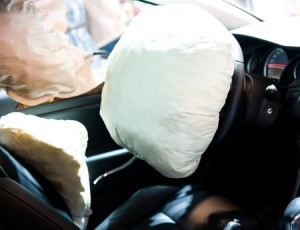 With Monday's announcement that auto retailers planned to recall roughly three million vehicles due to airbag issues, the auto industry has set the record for the number of recalls in a year, and we're not even to July.
According to the most recent announcement, the car companies BMW, Chrysler, Ford, Honda, Mazda and Nissan will be recalling vehicles equipped with airbags made by the Takata Corp. Automakers said a defective explosive charge in the airbag could potentially send metal shrapnel flying at occupants during a crash.
The airbag recall has already affected three million cars, and that number will likely increase. The conservative estimate means that car companies have recalled 31.4 million vehicles in the U.S. this year, breaking the previous annual record of 30.8 million set back in 2004.
The depressing record is even more concerning when you consider 2014 isn't even halfway over yet. Researchers believe that number could approach 50 million if trends continue.
Who The Recall Impacts
Honda is recalling the majority of the vehicles during the latest recall. Reports estimate that Honda will recall two million vehicles, including 2001-2007 Accords, 2001-2005 Civics, 2002-2006 CR-Vs, 2002-2004 Odyssey vans, 2003-2007 Pilots, 2003-2011 Elements.
Nissan said they plan to recall 228,000 vehicles, mostly the Infiniti FX35 and Pathfinder. Ford and Chrysler announced that they are conducting a "field action" in cooperation with the National Highway Traffic Safety Administration to determine which vehicles may be affected. Mazda said they would offer a "special service program" for 34,600 vehicles affected by the recall. It's uncertain which BMW vehicles are affected.
The NHTSA said the propellant used in the inflation system has the potential to burn too quickly. If that occurs, the canister housing the propellant can explode, causing metal shards to spray into the cabin.
The NHTSA said three people were injured as a result of the malfunction in 2013. A subsequent review found that at least six similar instances occurred in hot and humid regions like Florida and Puerto Rico. Investigators are trying to determine if the weather plays a significant role in the malfunction.
To see if your vehicle has been recalled, visit the company's website. Here are links to see if your Honda or Nissan has been recalled.
---