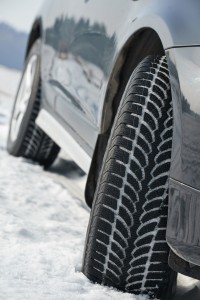 As winter weather continues to set in, drivers have a big decision to make. Should they equip their car with snow tires? Snow tires, as the name implies, are designed to provide you with a better driving experience in wintery conditions. That said, there are some drawbacks to equipping your car with snow tires. Below, we explain the benefits and drawbacks of snow tires.
Benefits of Snow Tires
Enhanced grip – Winter driving usually means you are traversing over ice and snow, and snow tires are designed to provide a better grip on these surfaces. Snow tires are softer and have deeper treads than all-season tires, enhancing their grip on the road. Although they improve grip, they aren't the best in summer when road conditions are ideal, as the softer design and deeper treads create more drag, reducing your fuel economy.
Better braking – If you've been driving in Minnesota long enough, you've experienced that panicky feeling when you hit the brakes and your car continues to slide along an icy road. Hopefully you were able to avoid a nasty fender bender, but the enhanced grip on snow tires also allows for better braking. That added braking ability can be the difference between stopping in time or ending up in an accident.
Drawbacks of Snow Tires
Wear down quickly – Although they are built to handle the winter weather conditions, snow tires are comparatively fragile to their all season counterparts. If you use snow tires during ideal conditions you'll notice that the tread wears down faster than normal. Additionally, the thick, studded design of some snow tires can damage the roads, creating potholes and problems for everyone else on the road.
Mental mindset – Sometimes snow tires give drivers a false sense of confidence during poor weather conditions. Snow tires help you grip the road, but that doesn't mean you should do 65 on the highway in blizzard conditions. These tires help to minimize the effects of snow and ice, but they don't fully compensate for their presence. Take it slow in bad weather even if you've swapped out the all season tires for a set of snow tires.
Related source: CarsDirect.com
---