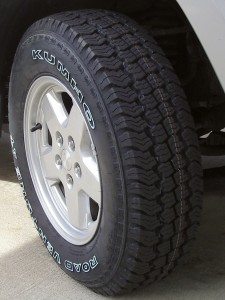 Last week, our mechanics passed along some tips for what to look for when buying tires. Now that you know what to look for, the next thing you want to know is when is the best time to buy tires.
Most people only think of buying tires when they have a flat or they notice their tread is gone, but you can actually save some money if you buy your tires at the right time. Below, we talk about the two times of year you can find the best bargains on tires.
September and October
That's right, now is a great time to buy new tires as we gear up for another Minnesota winter. Snow and ice may be the last thing on your mind, but September and October are when many auto shops stock up on tires that preform well during the cold winter months. If this winter is anything like last year, we're in store for at least five months of poor driving conditions.
Not only will you save some money by buying tires during the period when dealers have a surplus of stock, but similar to our related blogs on auto maintenance, the key to extending the life of your vehicle is to take steps to prevent problems from occurring, instead of fixing the end result. It's always a good idea to buy your new tires a little earlier rather than later, as postponing the purchase could lead to a much bigger bill if your car can't stop in time or keep you on the road during winter conditions.
March and April
If the best deals on tires revolve around the seasons, it should come as no surprise that March and April – the end of the winter months – are good times to purchase new tires.
Similar to when people gear up for the winter driving season in the fall, consumers use the springtime to prepare for the hot driving months June and July bring. Auto dealers once again stock up on tires during the spring, which means you'll probably see more deals on tires as people begin to plan cross-country road trips and other getaways. If you bought a set of tires specifically for the winter, now is the time you'll start to think about ditching them for a set that preforms better in the heat.
If you're in the market for new tires, don't hesitate to give us a call at (952) 933-0735. We want to keep you safe as the weather cools down, so let us help winterize your car by installing a new set of tires today!
Related source: About.com
---