Fun Car-Related Thanksgiving Facts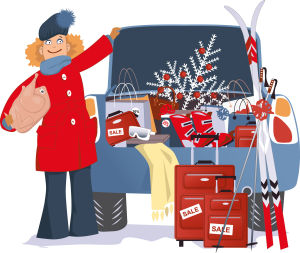 Thanksgiving is tomorrow, and soon college students and families will be traversing across the country to celebrate the holiday with one another. If you're hitting the road soon, now is a good time to brush up on last year's blog, "5 Thanksgiving Travel Tips" to help you get to your destination safely.
In spirit of the holiday, we thought we'd share some interesting car-related Thanksgiving travel facts as the holiday is one of the busiest days of the year for travelers. Enjoy!
Thanksgiving Travel Facts
Great news for gas guzzlers! Fuel prices are at their lowest mark at Thanksgiving in 5 years, as the national per gallon price is $2.85. It's even less in Minnesota! Gas is down to $2.49 in Brooklyn Park.
While gas prices are down, airfare costs are up this Thanksgiving. Airfare prices are up one percent from last year, while your average hotel or rental car costs have gone up eight and 10 percent respectively.
And remember, if you need an oil change before you take off, or if you need service on your return, stop in to Affordable Auto today.
Related source: AAA
---
Teens Less Likely to Drive Safe Cars

Aug 6, 2014

A new report by researchers at the Insurance Institute for Highway Safety found that teens are more likely to drive older, smaller cars than adults, which puts them at greater risk for accident and injury. According to the survey, teenagers are at a greater risk of injury during an accident than an adult counterpart who […]

Cruise Control Reduces Speed, Increases Driver Drowsiness

Sep 26, 2013

Most cars these days are equipped with cruise control, which allows a driver to set the speed of the vehicle without having to maintain constant contact with the gas pedal. In fact, you may be surprised to learn that cruise control technology was first introduced 100 years ago. Cruise control is a useful tool for […]

How Often Should I Check my Tire Pressure?

Jun 20, 2013

Everyone knows how to determine if their car is running low on gas, but how can you tell if your tires are running low on air? Tire pressure is often overlooked, but proper inflation is key to extending the life of your vehicle and your tires. In fact, not only will properly inflated tires extend […]