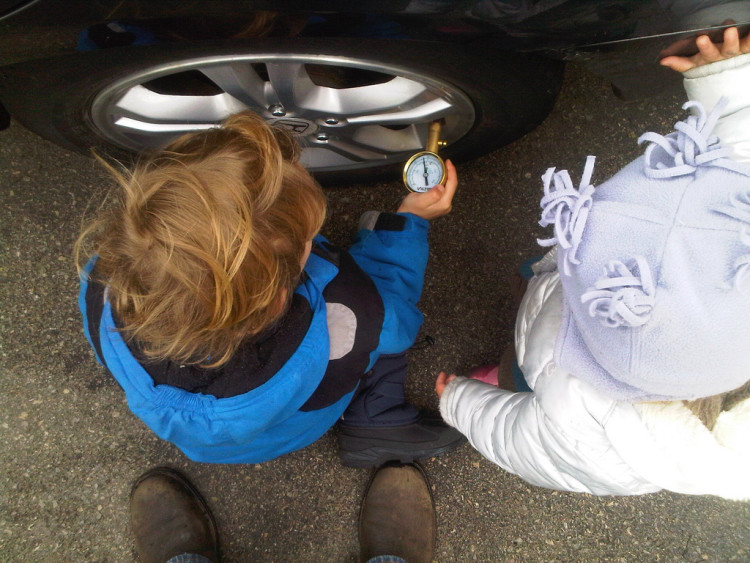 Everyone knows how to determine if their car is running low on gas, but how can you tell if your tires are running low on air? Tire pressure is often overlooked, but proper inflation is key to extending the life of your vehicle and your tires. In fact, not only will properly inflated tires extend the life of your tire tread, but it will also save you money on gas and keep your family safer on the road. Below, we discuss the in's and out's of proper tire pressure.
Why should I care about my tire pressure?
Some people believe as long as their tires pass the eye test, they are properly inflated (i.e. My tires don't look flat, so they must be good to drive on). While it's always a good idea to visually inspect your tires before you get behind the wheel, you could be compromising your safety and hard-earned money if your tires are over or underinflated.
Underinflated tires will wear out faster than their properly inflated counterparts. Because your wheels are compensating for the added stress of low tire pressure, they will begin to overheat. Hot tires lose their tread much quicker than tires that are operating at the optimal temperature.
Properly inflated tires will save you money at the gas pump. According to the U.S. Department of Energy, you can improve your gas mileage by over 3% by keeping your tires at the proper pressure level. That's roughly 12 cents a gallon. Assuming the average consumer fills up their 15-gallon tank once a week, properly inflated tires will save you $93.60 a year.
When should I check my tire pressure?
Regular tire pressure checks are the best way to ensure your tires are running at the optimal pressure level. Give your tires a visual check every time you approach your vehicle, and get in the habit of preforming another check when you're at the pump. You can find a handheld pressure gauge at your local hardware store, and keeping the gauge in your vehicle makes checking your tires a breeze. If you check your pressure while you're getting gas, you can usually always find a pressure pump close by if you're running low. If you don't want to check your tires that often, a good rule of thumb to follow is to check your tire pressure once a month.
---