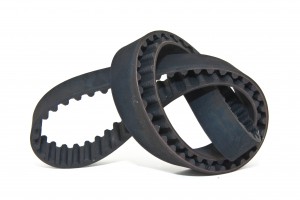 Everyone knows the simple fixes to keep your car in top shape, like getting routine oil changes, regularly changing your filters and fluids, and maintaining your tires, but some of the most important maintenance habits are the least well known. One such service is making sure you take care of your timing belt.
What is a Timing Belt?
A timing belt, also referred to as a timing chain or cam belt, is an integral part of the internal combustion engine. Its job is to synchronize the rotation of the crankshaft and the camshaft so that the engine's valves open and close at the correct time during each cylinder's intake and exhaust pump. In certain engines, the belt is also designed to prevent the piston from hitting the valves.
As its name implies, the timing belt needs to be perfectly calibrated to keep everything in proper order. If the belt gets out of alignment, or if it breaks altogether, you could severely damage or destroy the engine, which means your car could soon be hauled off to the junkyard if the damage is too great.
If your belt breaks, you'll know it right away. Once the belt snaps, your engine will cease to run, and you won't be able to get it started again. You'll need to call a tow truck to haul you into a friendly automotive technician to assess the damage.
When to change the belt
Replacing your timing belt isn't the cheapest service in the book, but it sure beats having to buy a new car if the break totals your car. Although the exact mileage varies on the type of vehicle and what type of driving you commonly do, our service technicians recommend that you replace your timing belt every 60,000-80,000 miles.
Timing belts are built to last up to 100,000 miles before requiring change, but that doesn't mean you should call a service technician when your odometer hits 99,999. Because of the damage that can be caused when the belt breaks, it is never recommended to exceed 80,000 miles on the same belt. They say hindsight is 20-20, and the same rule can be applied to timing belts – replacing the belt before it becomes and issue will save you a major headache down the road.
Related source: Yahoo
---