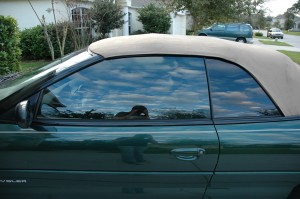 Considering getting your windows tinted? Want to learn the benefits and the laws in Minnesota? Affordable Auto Glass has you covered.
Benefits of Window Tinting
Customers come to us all the time asking about our window tinting services. A lot of people believe window tinting is only done to "look cool" or to make it easier for a driver to see at sunrise/sunset, but there are plenty of other reasons why tinting your windows is a smart and practical move.
Protect Fading – Sure, window tint will keep the sun out of your eyes, but it also prevents damaging sunrays from hitting your car's interior. Imagine window tint as sunscreen for the inside of your vehicle. The sun's rays can cause your leather or vinyl to fade, which can make your car look less appealing and affect the resale value.
Beat the Heat – Window tint can keep your car's interior cooler as your drive, so you won't need to blast the AC or roll down the windows as often. We've written before how driving with the windows down can hurt your car's gas mileage, so if window tint can keep you at a comfortable temperature, you can actually save some money at the pump.
Reduces Glare – The sun's glare can make driving dangerous, and it also puts unneeded strain on your eyes. Window tint reduces glare and makes it easy for you to see your surroundings while on the road. Plus it will protect your eyes!
Theft Prevention – Whether it was your backpack or GPS unit, you've probably left something valuable in your car overnight on accident. Hopefully nothing happened, but far too often we service cars that have had their windows smashed because a thief saw something inside the vehicle. Window tint can make it difficult for people to see into your car at night, which will protect anything valuable you keep in your car.
Minnesota Window Tint Regulations
We've talked about Minnesota's window tint laws before, but we thought it would be good to rehash the regulations.
Window tint is measured by the amount of light that can pass through the window. This is known as the Visible Light Transmission percentage.  Each window must allow a certain percentage of light to pass through it. Check out the chart below for tinting regulations in regards to passenger cars:

Some vehicles, like an SUV, truck or minivan, can have a lower VLT percentage on their rear windshield. Some of these vehicles can legally have their back windows tinted to 20% VLT. Most of these types of vehicles come with factory-installed tint, but if not, we'd love to do the procedure for you!
If you have any questions about tinting your windows, or you want a price quote, give us a call at (952)-933-0744
---