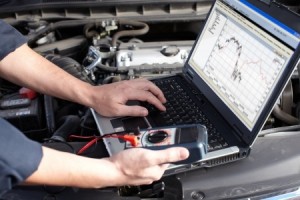 Since the teams competing in the Final Four and the Frozen Four (Go Gophers!) have been determined, we thought we'd stick with the theme and come up with a list of four on our own. Behold, the four most common car diagnostic codes!
Oxygen Sensor Codes – As we made mention in last week's post about crazy car facts, the most common car problem is a faulty oxygen sensor, so it makes sense that sensor issues top the list of common diagnostic codes. If your oxygen sensor isn't working properly, you'll likely notice a dip in gas mileage or your car will randomly stall, neither of which are good. Get your oxygen sensor fixed before it causes bigger problems.
Engine Misfire Codes – An engine misfire code is another common code that mechanics deal with on a daily basis. If your engine is misfiring, one or more of the cylinders isn't working properly. Not only will this impact fuel efficiency, but you'll also likely notice that your car vibrates a bit. You never want to ignore an engine issue, so if you notice that your car shakes while idol, swing on into a service center.
Evaporative System Codes – The evaporation system is another important part of your car. The evaporation system is responsible for containing and removing vapors that are produced when fuel is burned. It's a pretty complex problem that can be disrupted by the simplest things, like a loose gas cap. If a diagnostic test reveals an evaporation code error, try tightening the gas cap. If that doesn't work, you'll need to let a mechanic take a closer look.
EGR Codes – EGR stands for Exhaust Gas Recirculation, and its purpose is to control the engine's emission of smog-causing nitrous oxides. The vehicle's computer system controls the EGR system by opening and closing valves as needed. EGR problems can occur if you don't regularly have your oil changed, or if you take a lot of short trips with your car. These quick trips don't give your car enough time to adequately warm up, which can cause carbon buildup. Left unchecked, a problemed EGR system can cause major engine issues.
Related source: Bumper to Bumper Radio, KTAR 92.3FM in Phoenix
---