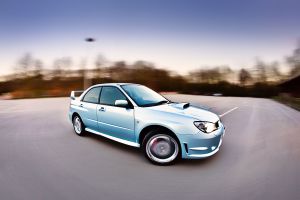 Some people gripe about spending money on car repairs, but at least you know your money is going towards improving your vehicle's performance. Speeding tickets, on the other hand, are car-related expenses that are no fun at all.
If you're like the vast majority of drivers, you've been pulled over a time or two. Maybe you were able to get out of a ticket, but odds are you'll get a ticket somewhere down the road, especially when you consider that 1 in 5 drivers will receive a speeding ticket in 2014. You can mitigate your risk of a driving violation by adhering to the speed limit and by coming to complete stops, but inattentiveness can get the best of anyone. Another way to lessen your risk of getting a ticket is by avoiding these ten most-ticketed cars in America.
1. Subaru WRX – 33.6%
2. Pontiac GTO – 32.7%
3. Scion FR-S – 32.6%
4. Toyota Supra – 30.8%
5. Subaru Tribeca – 29.7%
6. Volkswagen Rabbit – 29.6%
7. Mercury Topaz – 28.8%
8. Scion tC – 28.8%
9. Toyota FJ Cruiser – 28.4%
10. Mazda2 – 28.1%
That's right. More than 1 in 3 WRX drivers has a driving violation on their record. Des Toups, managing editor at Insurance.com, who conducted the survey, said the WRX and GTO are popular cars for young drivers, who are the most ticketed demographic.
"There's a bias towards young drivers," said Toups. "I know for a fact that Scions and the Subaru WRX are appealing to young drivers who get tickets at a higher rate."
Vadim Zelikov, a WRX owner who has been ticketed six times since 2004, said he's not surprised by the findings.
"It's because of the flamboyant look of the car for starters, the fact that the car is popular with young adults and it tends to be on the sportier side, so it's got a lot of horsepower," said Zelikov. "When I'm behind the wheel? I'm older now, so I feel younger. My girlfriend calls it calls it a Hot Wheels. It's like a red Corvette or a yellow Porsche. It stands out."
Related source: Insurance.com
---