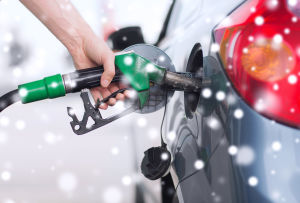 Winter is here, and by all accounts it appears it's here for good. When temperatures drop, so too does your car's fuel economy. Below, we explain why winter driving lowers your average mile per gallon and share some tips to raise it back up.
Cold Weather and Your Car
One car study found that the average car's gas mileage drops about 12 percent when temperatures drop below 20°F than if the outside temperature was a comfortable 77°F. Short trips of less than five miles are even worse, as fuel economy can drop up to 22% on quick trips to the store.
Gas mileage isn't the only thing affected by cold temperatures. Other ways cold temps impact your car include:
It takes longer for your car to reach optimal temperature. If it takes 10 miles for your car to reach optimal temperature, a three mile trip to the store means your car is making the whole trip at a less-than-optimal temperature.
Improving Fuel Economy in the Winter
Now that you know why colder temperatures make it harder on your car, here are some tips to improve your gas mileage during the cold winter months.
If you want to get a tune-up in now that winter is upon us, contact us for a free quote or to set up an appointment!
Related source: FuelEconomy.gov
---